Timeline

1893 - 1920 childhood and youth
1893
Rudolf Ditzen born on 21 July in Greifswald, Germany, the third of four children of Wilhelm Ditzen, a regional court judge, and his wife Elisabeth Ditzen
1899
Wilhelm is transferred to the Kammergericht (highest court in the state of Prussia) in Berlin and the family moves there.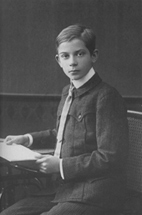 since 1906
Bismarck Grammar School in Berlin-Wilmersdorf
1909
His father is appointed as a judge at the Reichsgericht (Imperial Supreme Court).
The family moves to Leipzig, where Rudolf attends the Königin-Carola Grammar School.
1911
He attends the Fürstliches Grammar School in Rudolstadt
a duel takes place between Rudolf and his schoolmate Hans Dietrich von Necker, who is killed. A warrant for Rudolf's arrest is issued, the case tried in court, and Rudolf undergoes a psychiatric examination at the university hospital in Jena.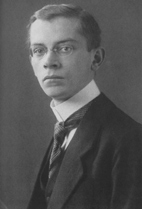 1912
Admission to the psychiatric hospital in Tannenfeld, Saxony
educated by his aunt, Adelaide Ditzen
1913
Trainee farmhand on an estate in Posterstein, Thuringia
1914
Volunteer in the First World War
served 11 days in the Ordnance Corps in Leipzig
1916
Assistant at the Landwirtschaftskammer (Chamber of Agriculture) in Stettin
research assistant at the Kartoffelanbau-gesellschaft in Berlin, a company dealing with potato cultivation
1917
Withdrawal treatment for drug addiction in Carlsfeld, Halle
accounts clerk on various estates
1919
Drug withdrawal treatment in Tannenfeld, Saxony
1920
His first novel Der junge Goedeschal (Young Goedeschal) published by the Rowohlt publishing house
accounts clerk on the island of Rügen and on estates in Mecklenburg, West Prussia and Pomerania
1923
Second novel Anton und Gerda (Anton and Gerda)
sentenced to three months' imprisonment for embezzlement
1924
Prison in Greifswald
bookkeeper and accountant on various estates
1925
Sentenced to two-and-a-half years' imprisonment for embezzlement
prison in Neumünster
1928
Engagement to Anna Margarete Issel
works as an address clerk in Hamburg
1929
Marries on 5 April
works as local-news editor and advertisement seller for the General-Anzeiger newspaper in Neumünster
1930
Salaried employee with the Ernst Rowohlt publishing house in Berlin
birth of his son Ulrich on 14 March
1931
Novel Bauern, Bonzen und Bomben (Peasants, Bosses and Bombs)
purchases a house in Neuenhagen, an outlying district of Berlin
1932
Worldwide success of the novel Kleiner Mann, was nun?
(Little Man, What Now?)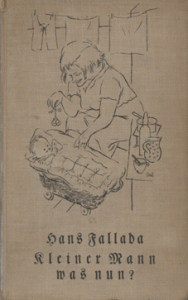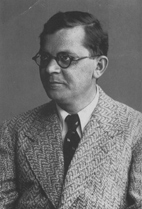 1933
The family moves to Berkenbrück near Berlin
Fallada is arrested by the SA (Storm Troopers) and detained for 11 days in the prison in Fürstenwalde
Birth of his daughter Lore on July 18
purchase of property in Carwitz, near Feldberg, Mecklenburg
1934
Novels Wer einmal aus dem Blechnapf frisst (Once a Jailbird) and Wir hatten mal ein Kind (Once We Had a Child)
1935
Novel Das Märchen vom Stadtschreiber, der aufs Land flog (Sparrow Farm)
1937
Novel Wolf unter Wölfen (Wolf Among Wolves)
death of his father on 14 April
1938
Novel Der eiserne Gustav (Iron Gustav)
1940
Novel Der ungeliebte Mann (The Unloved Man)
birth of his third child, Achim, on 3 April
1943
Novel Ein Mann will hinauf (A Man Wants to Move Up )
trip to France with the Reichsarbeitsdienst (Imperial Labour Service)
1944
Divorce from Anna Ditzen on 5 July
meets Ursula Losch
compulsory hospitalization in the psychiatric prison in Strelitz
Trinkermanuskript (Drinker Manuscript) is written
1945
Marries Ursula Losch on 1 February
appointed mayor of Feldberg
moves to Berlin
meets Johannes R. Becher
becomes a freelance writer for the Tägliche Rundschau newspaper
1946
Work on the novels Der Alpdruck (The Nightmare) and Jeder stirbt für sich allein (Alone in Berlin)
admission to the psychiatric clinic of Charité hospital in Berlin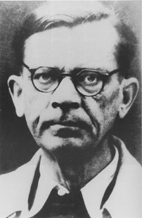 1947
Dies of heart failure on 5 February in Berlin-Niederschönhausen